SoundCloud Promotion
The BIG advantage of SoundCloud for musicians is that you are not competing with professional material. Instrumentals are commonplace. If you want to post 15-minute guitar solos, go ahead, someone will listen!
Everything a musician needs to know to promote yourself on SoundCloud
That's why SoundCloud is THE platform for musicians to interact and collaborate. Just look at their stats...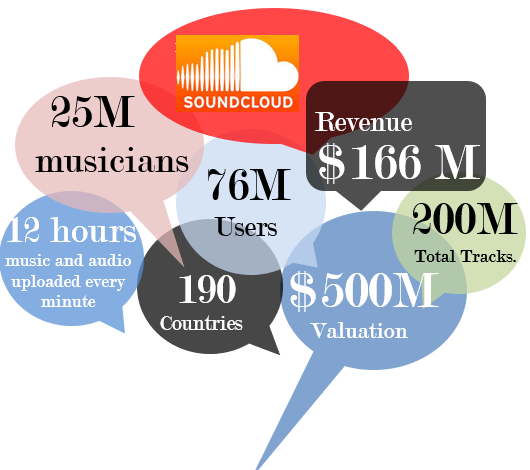 More than twenty five million musicians are on the platform to date
Users upload 12 hours of music and audio every minute
SoundCloud is available in 190 countries
I've got over 1 million plays on SoundCloud and have learnt some tips to becoming popular that I can share with you.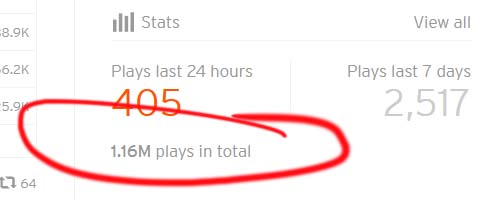 One majorly talented young lady Galina, who you can check out at Galina's channel has exactly the right attitude when she says…
"I'm not on Facebook or ReverbNation or beatport or Fandalism or SoundClick or Spotify or iTunes or bandcamp or OurStage or Songkick or tweewoo or MySpace or Google+ or Tumblr or Twitter or yet-another-site-where-people-can-ignore-your-music-but-it-makes-you-feel-good-to-post-it-anyway.com."
You're on SoundCloud for the music. You're on SoundCloud to collaborate with other musicians. Finding an audience is a fortunate by-product.
Music is a popularity contest not a talent show.
SoundCloud is no different, you can spend your time developing a following though protocol insists it should be organic. You do not offer to follow each other or repost each other's tracks. You should only engage if you like something.
Remember, always follow SoundCloud member Etiquette when you interact with others.
Downsides
SoundCloud is very insular with almost incestuous little cliques, but you must engage with comments and collabs to promote yourself and grow your channel
SoundCloud is always about to go bust! Rumours of the demise of SoundCloud have often surfaced, all stemming from funding issues and its business model.
Twitter was once reportedly considering a $2 billion acquisition of SoundCloud in 2014 but did not proceed. Perhaps one day SoundCloud will be history - along with whatever you've posted on there, your fans, and your likes.
I hope they survive but that's another compelling reason for building your own website – you control it. In the meantime, support them by taking out a Pro subscription – it unlocks extra storage and features.
Everyone on SoundCloud wants to promote their music, not yours. WIIFM (What's in it for me)
SoundCloud currency is plays, followers, and downloads – along with often inane, sycophantic comments.
Promote yourself with SoundCloud Collaborations
SoundCloud Collaborations are the primary means of self promotion. Spend time learning the landscape. Hope someone notices you but if they don't ask you, you ask them!
Here's some practical advice so you don't seem like a newbie. This is fairly standard SoundCloud collaboration workflow.
All the tools you need to collaborate with others is built in and available for all registered users. File sharing and communication.
Personally, I like an email address to setup a shared folder on Dropbox. This is more efficient than using SoundCloud private sharing in that you can share any type of document for example music charts.
Basically, you send a backing track and optionally a text file with any directions you'd like your collaborator to follow.
The audio files you share are called stems
If playing on collabs initiated by others I usually provide a demo track initially to ensure that the feel is what they want. After consultation I may hone it in multiple stages to suit. Once they sign off on that (everyone has a veto) I do a final version.
Every musician I have collaborated with on SoundCloud is different. Vocalists like to stay within their vocal range. Instrumentalists expect a solo. If in doubt, ask.
What should your first SoundCloud post be?
The advantage of cover tracks is that half the battle is already won. The listener is already familiar with the song, so you only have to convince them of the musicianship. No matter how good you are you cannot just cold post an original track and expect people to find it. It ain't gonna happen.
Shelf Life Covers keep getting plays. Many of mine have 10K+ (when the average play is under 100).
The problem with covers is that they are one offs; people who just want the track and have no interest in giving feedback or following so their plays do not translate into followers. Most of my tracks are instrumentals so I speculate some are probably just looking for a good Karaoke track!
The other issue is copyright
Promote yourself with the right SoundCloud Account
SoundCloud is free but I would urge you to upgrade for a number of reasons.
Depending on your package you get different functionality.
As a general rule, pro-accounts get more followers. Don't ask me why – whether it is the algorithm or real users take you more seriously. But they do.
Go pro. You can guarantee to pin the stuff you want users to see at the top of the page due to a feature called Spotlight. You can choose the top five spotlighted entries yourself, and they can be playlists as well as individual tracks.
If you feel like impressing people you can always pop your favourite or most popular track (the one with the most plays) in the spotlight. They do get listened to more. Don't expect users to scroll far down 'below the fold'.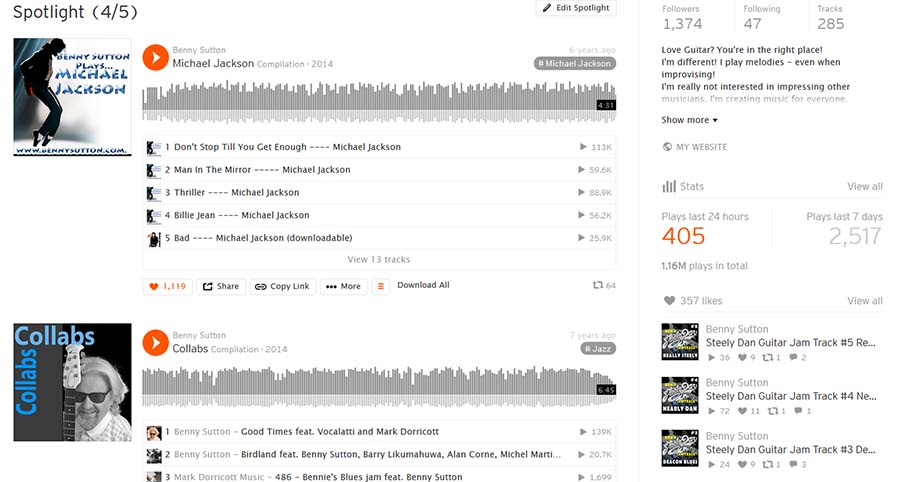 Downloads on SoundCloud are great promotional tools
Plays, reposts, and likes are all well and good but the metric that I pay most attention to is downloads. If someone likes a track sufficiently, they want it on their MP3 player for offline listening.
A play is a play - but a download has its own life outside the SoundCloud universe.
Once out in the wild your track might get shared with friends, end up on many devices. That's why you must allow downloads. Don't get precious.
I can't give stuff away so don't think anyone is going to click through to iTunes to buy your track. Maybe your mother but that's all!
This is another reason to go pro. Ordinary accounts allow only 100 downloads; though you can use the buy link and explain in your title but that's a bit messy. Pro accounts allow 1000.
You must prepare your files for download. Edit the metadata - that is text and images that can be embedded in the MP3 file. That's what you see in your player when the track is playing, the title and image. Try NCH Stamp ID editor. It's cheap and works.
Titles on SoundCloud
The first concept to understand when creating titles for SoundCloud is not to clickbait like you can on YouTube.
You should respect conventions. It is bad etiquette to clickbait on SoundCloud. YouTube is swamped with claims like "best ever" and "You gotta play this" (because it works) but it is frowned upon by the more sophisticated audience on SoundCloud.
On SoundCloud the first line in the details field is important; it is shown on embedded displays on both YouTube and SoundCloud. Bear that in mind when you compose it.