How To Become Famous on SoundCloud
You've uploaded your first track, now what? You promote it!
The first 24 hours will determine any track's success so you should front-load your promotion efforts to the first day.
When you upload your tracks to your channel your followers will automatically get notification. That's handy but you should remember the Law of 7
Every track uploaded deserves promotion by bulk email notifications and social media shares. Consider staggering the messages, so you're not bombarding fans on multiple platforms all at once.
Have a clear CTA (call to action) in your comments and description. Ask them to subscribe, visit your website, leave a comment (this is how you go viral). Respond to every comment with an answer - and a question
I take a contrarian view on asking for likes over SoundCloud PMs. Don't do it. It's not "cool" and I doubt more than 1 in a 1,000 respond.
Engagement
Engagement on a SoundCloud track tends to come in the following forms…
Likes on your tracks
Social sharing
Following your channel
Commenting on your tracks
Reposting
Getting followers on SoundCloud for Free
Followers, true followers, are a product of networking with other SoundCloud members.
I say this all the time on my pages…
Musical success is not about talent, music is a popularity contest
You make friends (SoundCloud buddies) by taking an interest in other peoples tracks. If you leave comments on other peoples tracks, it encourages them to seek out your channel and reciprocate with comments on yours.
If you really want to give someone the message that you dig them, you repost their track to your channel.
One proviso. Your profile is your SoundCloud landing page so do not let it get cluttered up with other reposts of other SoundCloud members. People want to find your stuff ASAP here and will click out immediately if all they see is reposts. Some have a second repost account. I do.
I'll say this again. Go and comment on your follower's tracks. Once you put yourself in their minds, they will probably look at your new tracks.
Graphic optimisation and Marketing
Long before they hear your music visual elements will have the biggest impact on influencing SoundCloud users to click and like your tracks.
You need to focus on three areas — the headline, the thumbnail, and the description.
Promote your track hard in the first 24 hours through email/push notifications. Share to Twitter and Facebook. Success within this time period will be the deciding factor for short to medium term popularity.
Give a track a month then check your stats to see how you can improve next time.
SoundCloud Tools
SoundCloud provides a suite of tools to help creators create and analyze content
On SoundCloud studio you can…
edit playlists, content
Customize your channel
review comments users make on your tracks
Analytics
Insights
Insights is the area you'll spend a lot of your time. It shows analysis that will be a very useful to guide for your future releases.
On SoundCloud Analytics you can see how many plays overall you a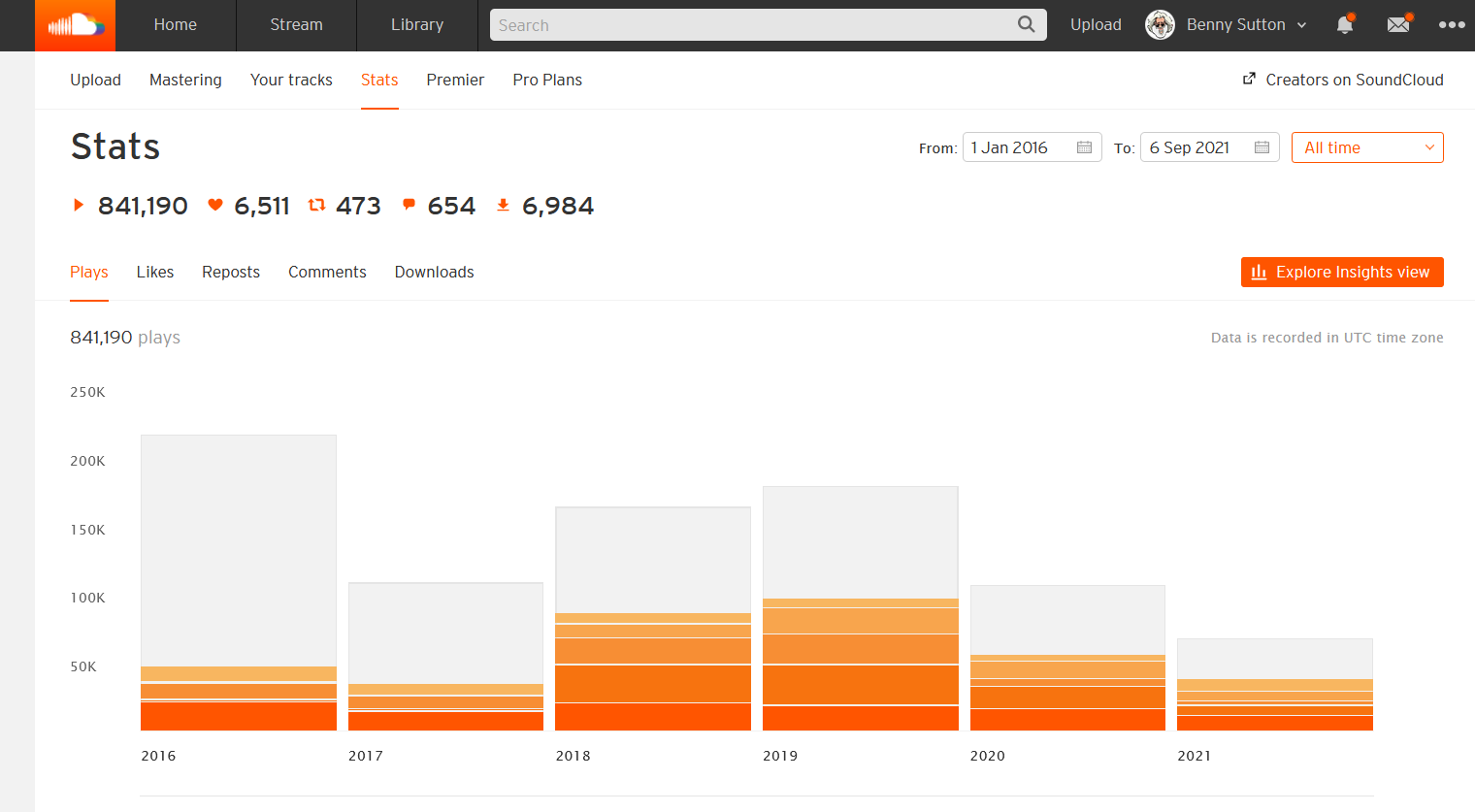 re getting, user count, top tracks, and more.
Conclusion
Uploading a track to SoundCloud is only the start; marketing is what matters. Have a clear Call to Action within your description. Strive for engagement and use all available analytic tools.